Personalized medicine in colorectal cancer diagnosis and treatment: a systematic review of health economic evaluations
Cost Effectiveness and Resource Allocation
2018
16:2
Received: 8 September 2017
Accepted: 3 January 2018
Published: 22 January 2018
Abstract
Background
Due to its epidemiological relevance, several studies have been performed to assess the cost-effectiveness of diagnostic tests and treatments in colorectal cancer (CRC) patients.
Objective
We reviewed economic evaluations on diagnosis of inherited CRC-syndromes and genetic tests for the detection of mutations associated with response to therapeutics.
Methods
A systematic literature review was performed by searching the main literature databases for relevant papers on the field, published in the last 5 years.
Results
20 studies were included in the final analysis: 14 investigating the cost-effectiveness of hereditary-CRC screening; 5 evaluating the cost-effectiveness of KRAS mutation assessment before treatment; and 1 study analysing the cost-effectiveness of genetic tests for early-stage CRC patients prognosis. Overall, we found that: (a) screening strategies among CRC patients were more effective than no screening; (b) all the evaluated interventions were cost-saving for certain willingness-to-pay (WTP) threshold; and (c) all new CRC patients diagnosed at age 70 or below should be screened. Regarding patients treatment, we found that KRAS testing is economically sustainable only if anticipated in patients with non-metastatic CRC (mCRC), while becoming unsustainable, due to an incremental cost-effectiveness ratio (ICER) beyond the levels of WTP-threshold, in all others evaluated scenarios.
Conclusions
The poor evidence in the field, combined to the number of assumptions done to perform the models, lead us to a high level of uncertainty on the cost-effectiveness of genetic evaluations in CRC, suggesting that major research is required in order to assess the best combination among detection tests, type of genetic test screening and targeted-therapy.
Keywords
Personalized medicineEconomic evaluationCost-effectiveness analysisColorectal cancerCRC
Background
Personalized medicine (PM) tailors medical treatment to a patient's personal history, genomic profile and/or specific biomarkers, with one of the most important approaches relies on scientifically developed correlations between responses to medications and specific genetic variants. PM has the potential to better respond to the increasing burden of chronic disease and the complexity of co-morbidities in term of sustainability of healthcare systems [1]. Indeed, the increasing weight of chronic diseases, such as cancer, on the demand for healthcare services and on the infrastructures required to support them, represents one of the major global health problems of the twenty-first century in term of sustainability of the whole system [2]. On these bases, the development of chronic disease management system based on PM approach should be prioritized globally, especially because it may offer, at the same time, new challenges for financial sustainability and new opportunities for industry and national economies [1, 3, 4]. Several studies demonstrated that a PM approach offers different potential benefits such as reduction of adverse drug reactions (ADRs), improvements of patients' treatment adherence and better clinical and economic outcomes [1, 5, 6]. Furthermore, additional economic benefits would be gained by limiting the prescription and reimbursement of drugs only to patients who are most likely to respond to treatment.
Due to its epidemiological importance, several studies have been performed in the field of economic evaluations in PM for the diagnosis and treatment of patients with colorectal cancer (CRC), the third most common cancer worldwide. Of note, approximately 25% of newly diagnosed patients experience a metastatic disease ab initio and almost 50% of all CRC patients will develop metastases over time, contributing to a high mortality rate. Hence, CRC imposes a substantial healthcare cost burden on individual patients and society. CRC is a multifactorial disease, with inheritance component accounting for approximately 6% of all patients. Lynch syndrome (LS) is the most common cause of hereditary CRC. Early detection of LS, provides an opportunity for a preventive cancer approach. Additionally, genetic mutations make some tumors less responsive to specific treatments. In this scenario, the stratification of patients into genetic subgroups for targeted therapies represented an efficacious strategy in improving treatments' clinical effects. Thus, summarizing, in the view of personalized medicine, molecular characterization in CRC hit the natural history of this disease at different time point: (i) may help in the identification of predisposing conditions; (ii) in advanced CRC permitted the transition from conventional cytotoxic drugs to molecular biomarkers-driven decision for the selection of most suitable biologic agents, with improvement in survival endpoints and safety; (iii) may improve the identification of specific prognostic subgroups.
Beyond the clinical benefits, they significantly influenced the economic impact of the treatment due to the increasing use of target therapy [5]. Thus, starting from their clinical efficacy, an assessment of economic value should consider their combined impact.
Economic evaluations are widely used in healthcare system, especially for the reimbursement of pharmaceuticals in those sectors where the continuous rising of costs undermines the sustainability of the whole system [7–9]. The main aim of evaluations of a genetic testing and/or its associated therapy is to compare differences in costs to differences in health effects between alternative therapies providing support to the decision process. Indeed, these kind of evaluations suggest whether both the information generated from the diagnostic test and the expected outcomes from the targeted therapy justify their costs [10]. In this scenario, cost-effectiveness analyses (CEAs) of pharmacogenomics profiling appeared of utmost importance.
This work aims to review the economic evidence supporting diagnosis of inherited syndromes associated with CRC and evaluation of genetic tests for the detection of specific mutations associated with response to therapeutics in metastatic CRC (mCRC). Our review considers adherence to the best practice modelling guidelines as well as the assumptions made in CRC models relating to specific aspects of the disease. Our analysis also provide a summary of the findings of the previous economic evaluations in the investigated field, that health providers, policy and decision makers should take into account for a better organization of National Health Systems (NHSs).
Results
The search strategy identified 296 publications, with 62 duplicated being removed. Among records screened, 147 were excluded after title and abstract screening because not matching inclusion criteria. Of the remaining 87, after full text review, only 20 have been identified that have met the inclusion criteria and were included in the systematic review (Fig.
1
) [
16
].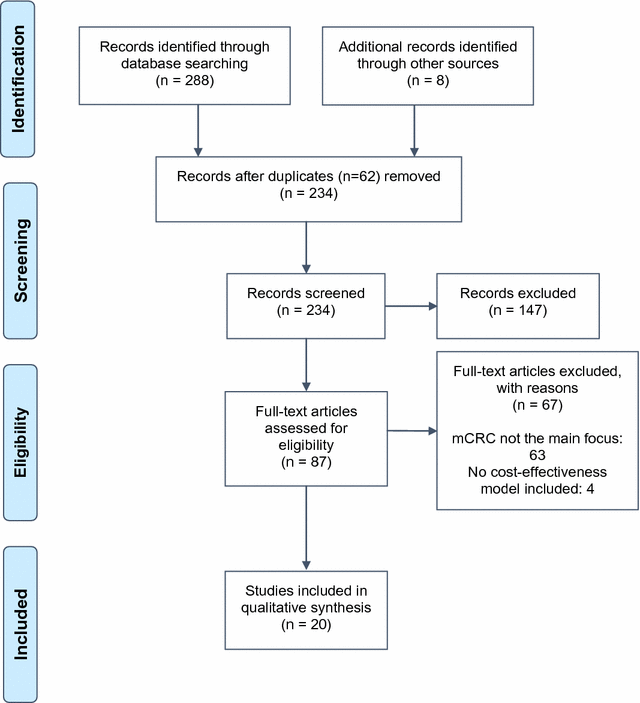 All studies vary in terms of perspectives, population analysed, country settings and assumptions. Table
1
outlines some of the general study characteristics. A detailed analysis is provided in Additional file
3
.
Table 1
Main characteristics of the included studies
| Study | Country | Population | Type of test |
| --- | --- | --- | --- |
| Alberts et al. [36] | USA | CRC patients with stage II, T3, MMR-P | Oncotype DX (12-gene assay) |
| Barone et al. [34] | IT | High-risk non-mCRC patients | KRAS mutation testing |
| Barzi et al. [17] | USA | Healthy individuals | IHC, Amsterdam criteria, MMR, PREMM, germline, BRAF, MSI, RBG |
| Behl et al. [33] | USA | Patients with mCRC | KRAS and BRAF mutation testing |
| Blank et al. [31] | CH | Patients with mCRC who are chemorefractory | KRAS and BRAF mutation testing |
| Dinh et al. [27] | USA | Population aged 20 years or over | Genetic sequencing and rearrangement; single-site testing; IHC; MSI |
| Gallego et al. [18] | USA | CRC patients with genetic mutations | NGS; IHC; BRAF V600E |
| Gausachs et al. [19] | NR (Probably ES) | CRC patients with genetic mutations | BRAF V600E, MLH1 promoter hypermethylation |
| Gould-Suarez et al. [20] | USA | CRC patients | RBG, BRAF targeted mutation analysis, IHC; MSI, MMR gene sequencing |
| Gudgeon et al. [21] | USA | CRC patients | IHC staining for the 4 MMR proteins, MSI, BRAF mutation, MMR gene sequencing/rearrangement analyses (Seq-Rearr), and methylation of the MLH1 promoter. (tumor testing and genetic testing) |
| Ladabaum et al. [28] | USA | CRC patients and their relatives | Amsterdam, IHC, BRAF, MSI, MMR, PREMM, RBG |
| Leenen et al. [22] | DE | CRC patients | MSI, IHC, MMR gene sequencing, RBG |
| Severin et al. [23] | DE | CRC patients and their relatives | IHC, MSI, BRAF V600 mutation, genetic sequencing, MMR, Amsterdam criteria, RBG |
| Sie et al. [24] | DE | CRC patients and their relatives | IHC, MSI, MLH1, germline |
| Snowsill et al. [26] | UK, Wal | CRC patients aged under 50 years and their FDRs | MSI, IHC, BRAF V600E, Amsterdam criteria |
| Snowsill et al. [25] | UK | CRC patients aged under 50 years | IHC, MSI, BRAF |
| Vijayaraghavan et al. [32] | USA, DE | Patients with mCRC in 2nd-line treatment | KRAS mutation testing |
| Wang et al. [29] | USA | CRC patients (at a mean age of 48 years in the base case) and their relatives (at a mean age of 25 years) | IHC, BRAF, MSI, RBG, Amsterdam criteria, MMRpredict, MMRpro, PREMM, germline |
| Wang et al. [30] | SG | 21-year-old FDRs of mutation-confirmed LS cases | NR |
| Westwood et al. [35] | UK, Wal | Adult mCRC whose metastases are confined to liver and are unresectable | KRAS mutation testing |
Studies were divided into three main categories: Hereditary (14 studies)—KRAS (5 studies)—prognosis (1 study).
Discussion
This work presents a systematic literature review of economic evaluations on genetic screening and targeted mutation detection tests used in CRC and published in the last 5 years. We included twenty studies divided into three main groups according to the issue addressed by each article: "diagnosis", "treatment" and "prognosis" [17–36]. The main aim of these evaluations was to compare differences in costs related to health effects between alternative interventions in order to simplify and support the decision-making process. Several authors, through case and model-based studies, confirmed predictive genetic mutations' clinical effectiveness, which generated an increase in their use in the clinical practice, with inevitable consequences in terms of costs [37–39]. Indeed, the latter caused concern about the reimbursement of these tailored-treatment as well as the need for adequate CEAs. In this scenario, CEAs of targeted therapies may represent a powerful tool to be used to evaluate the sustainability of the whole system. The present work contributes to the existing knowledge, by reviewing methods and approaches used in literature to evaluate the health economic impact of genetic testing. We observed an extensive use of scenario analysis to represent the multiple application of tests related to different patients' group. It was also observed a wide use of sensitivity analyses in order to assess the robustness of the results regarding test acceptance and compliance. Our analysis also suggests how the accuracy of a diagnostic test, costs and assumptions done at the initial stage of the model estimation influence results of economic evaluation studies [37–39].
Regarding the evaluation of "diagnostic" approaches, all studies concluded that screening strategies for LS were cost-effective compared with no screening, with all of them finding at least one strategy that fell below a pre-specified threshold.
However, as previously discussed, given the different strategies and costs for each country, there was little consistency between results observed. In two studies, IHC with BRAF appeared to be the most cost-effective strategy [28, 29]. In further two studies, universal genetic testing was cost-effective compared to clinical risk criteria [27, 29]. Additionally, several authors agree that RBGs remain useful for screening CRC patients for LS, even if their limitation as a history-based tool and their relatively low sensitivity raise serious concerns about their effectiveness [17, 20, 23] (thus differing substantially from others [18, 19, 21, 22, 24–30]). Summarizing, all the studies suggested the cost-effectiveness of screening strategies in CRC patients, despite of age and in relatives in presence of LS.
Regarding "treatment", the scenario appears little more complex and this clearly emerged from Behl et al. and Blank et al. studies [31, 33]. Indeed, both analyzed cost-effectiveness of KRAS and/or BRAF mutations' screening test, obtaining considerably different results in terms of the amount of costs included in the model [31, 33].
Costs of base-case in the models performed by Blank et al. [31] were significant lower than costs calculated in the study of Behl et al. [33], probably due to the exclusion of resection costs, thus influencing models outputs (such as overall survival, QALY and ICERs). Both models showed that, for the lowest WTP-threshold, screening for KRAS and BRAF mutations is the most cost-effective approach among alternatives; KRAS-test represents the 2nd best choice and, finally, for the highest amount of WTP, administering anti-Epidermal Growth Factor Receptor (anti-EGFR) treatments to all patients might represent the best alternative in terms of clinical benefits. The latter hypothesis suggests that resources scarcity imposes the adoption of screening approaches in order to contain the high costs related therapies. Vijayaraghavan et al. and Barone et al., investigated cost-effectiveness of testing KRAS mutations before administering EGFR inhibitor [32, 34]. Despite they followed a different methodology approach, both studies showed cost-saving effects associated to the adoption of predictive testing to select patients for the following therapies. Of note, several recent RCTs underscored the importance of the evaluation of NRAS mutations (in addition to KRAS) before starting a treatment with anti-EGFR agents. Accordingly, only patients with both WT-KRAS and WT-NRAS (pan-WT-RAS) will benefit from the treatment and new CEAs evaluating the addition of this double test are therefore eagerly awaited. We further analysed economic evidence on targeted-mutation detection tests. Unfortunately, only one paper was found comparing different kind of KRAS mutation tests [35]. Results suggested that KRAS testing with Therascreen KRAS RGQ PCR kit (QIAGEN) was more costly and more effective than Pyrosequencing.
Our study has some limitations: first only English articles were included in our search. Furthermore, models heterogeneity as well as the strong dependence of economic evaluation on country-related settings, may affect the generalizability of our results. Lastly, a certain degree of subjectivity in our assessment should be taken into account, especially considering that is not feasible to summarize in details all elements reported in each article evaluated.
Conclusion
Overall, economic evidence on genetic testing screening in CRC suggested that all the screening interventions evaluated in our systematic review are cost-saving for certain WTP-threshold. However, the poor evidence in this field, combined to the numbers of assumptions done to perform the models and to the lack of transparency and consistency in the methods used to derive costs, lead us a high level of uncertainty of the cost-effectiveness results provided in this study. For this reason, major research is required in order to assess the best combination among detection tests, type of genetic test screening and targeted-therapy. To overcome the major limitations found during this work, health providers, policy and decision makers should develop a common strategy on how models involving molecular testing should be structured and executed, in order to implement cross-comparable health economic evaluations and ensure an enlightened guidance in the development of standardized economic evaluations.
Abbreviations
PM:

personalized medicine
CRC:

colorectal-cancer
WTP:

willingness-to-pay
mCRC:

metastatic CRC
USA:

United States
IT:

Italy
CH:

Switzerland
ES:

Spain
DE:

Germany
UK:

United Kingdom
Wal:

Wales
SG:

Singapore
MMR-P:

mismatch-repair-proficient
LS:

Lynch syndrome
FDRs:

first-degree relatives
NR:

not reported
NGS:

next-generation-sequencing
RBG:

Revised Bethesda Guidelines
DAM:

decision analytic model
RCTs:

randomized clinical trials
NCCN:

National Comprehensive Cancer Network
CEA:

cost-effectiveness analysis
CUA:

cost-utility analysis
aCT:

adjuvant chemotherapy
CE:

cost-effectiveness
CRCP:

colorectal cancer and polyposis
BSC:

best supportive care
FH:

family-history
QALY:

quality-adjusted life year
ICER:

incremental cost-effectiveness ratio
LYG:

life years gained
MMR:

mismatch-repair
ADRs:

adverse drug reactions
NHSs:

National Health Systems
CBA:

cost–benefit-analysis
CHEERS:

Consolidated Health Economic Evaluation Reporting Standards
IHC:

immunohistochemistry
HNPCC:

hereditary-nonpolyposis-CRC
anti-EGFR:

anti-epidermal growth factor receptor
PPP:

purchasing power parity
Declarations
Authors' contributions
AG led on all aspects of the paper development from conceptualization to finalization. AG, NS and MG reviewed all the selected studies for inclusion/exclusion, AG conducted the analysis and the interpretation of the data, NS aided in the interpretation of the findings. NS, MG and MM all critically revised the document. All authors read and approved the final manuscript.
Acknowledgements
Not applicable.
Competing interests
The authors declare that they have no competing interests.
Availability of data and materials
All data supporting the conclusions of this review were included within the article and list of references.
Consent for publication
Not applicable.
Ethics approval and consent to participate
Not applicable.
Funding
To perform this work no funding have been received.
Publisher's Note
Springer Nature remains neutral with regard to jurisdictional claims in published maps and institutional affiliations.
Open AccessThis article is distributed under the terms of the Creative Commons Attribution 4.0 International License (http://creativecommons.org/licenses/by/4.0/), which permits unrestricted use, distribution, and reproduction in any medium, provided you give appropriate credit to the original author(s) and the source, provide a link to the Creative Commons license, and indicate if changes were made. The Creative Commons Public Domain Dedication waiver (http://creativecommons.org/publicdomain/zero/1.0/) applies to the data made available in this article, unless otherwise stated.
Authors' Affiliations
(1)
Department of Clinical and Experimental Medicine, "Magna Græcia" University, Catanzaro, Italy