Cost-effectiveness analysis of malaria interventions using disability adjusted life years: a systematic review
Cost Effectiveness and Resource Allocation
2017
15:10
Received: 13 January 2017
Accepted: 24 June 2017
Published: 1 July 2017
Abstract
Background
Malaria continues to be a public health problem despite past and on-going control efforts. For sustenance of control efforts to achieve the malaria elimination goal, it is important that the most cost-effective interventions are employed. This paper reviews studies on cost-effectiveness of malaria interventions using disability-adjusted life years.
Methods
A review of literature was conducted through a literature search of international peer-reviewed journals as well as grey literature. Searches were conducted through Medline (PubMed), EMBASE and Google Scholar search engines. The searches included articles published in English for the period from 1996 to 2016. The inclusion criteria for the study were type of malaria intervention, year of publication and cost-effectiveness ratio in terms of cost per DALY averted. We included 40 studies which specifically used the DALY metric in cost-effectiveness analysis (CEA) of malaria interventions.
Results
The majority of the reviewed studies (75%) were done using data from African settings with the majority of the interventions (60.0%) targeting all age categories. Interventions included case treatment, prophylaxis, vector control, insecticide treated nets, early detection, environmental management, diagnosis and educational programmes. Sulfadoxine–pyrimethamine was the most common drug of choice in malaria prophylaxis, while artemisinin-based combination therapies were the most common drugs for case treatment. Based on guidelines for CEA, most interventions proved cost-effective in terms of cost per DALYs averted for each intervention.
Conclusion
The DALY metric is a useful tool for determining the cost-effectiveness of malaria interventions. This paper demonstrates the importance of CEA in informing decisions made by policy makers.
Keywords
MalariaDisability-adjusted life yearsCost-effectivenessCostEffectiveness
Background
Although the number of malaria cases are showing a declining trend, about 3.2 billion people remain at risk of malaria [1]. There were an estimated 214 million new cases of malaria and 438,000 deaths in 2015 alone, with approximately 80% of these deaths concentrated in just 15 countries, mainly in Africa [1]. The main challenges in the fight against malaria include in-effective national malaria control programmes, changes in population distribution and population growth, changes in land use, resistance to anti-malarial drugs, insecticide resistance, poor health infrastructure as well as climate change and climate variability [1, 2].
Cost-effectiveness analysis (CEA) of malaria interventions can provide essential information for malaria control at various levels and can inform health sector budgets [3]. In this context, intervention is defined as any preventive, promotive, curative, or rehabilitative action that improves health [4]. CEA uses a cost-effectiveness ratio (CER) to compare interventions in terms of costs and effectiveness [5]. CEA can be used to identify priority interventions when resources are limited [6] and hence should be considered when designing strategies for prevention, treatment and control of disease [7]. CEA takes into account the costs and effects of adding new interventions to current ones or of replacing an existing intervention with another targeting the same condition [4]. The decision to employ a particular malaria intervention must therefore be determined, not only by the effectiveness of the intervention, but also by the ability of the health system to sustain its use [8].
The disability-adjusted life year (DALY) is a metric measure for burden of disease [9, 10] developed by the World Health Organization (WHO), World Bank and the Harvard School of Public Health researchers [10–13]. DALYs were first used in the global burden of disease and injury (GBD) study, a joint study done by the World Bank, WHO and Harvard School of Public Health [10, 14]. The DALY can be used as a summary measure to determine the cost-effectiveness of different types of interventions for each specific disease type [15]. It has been recommended that analysts express CER in terms of DALYs, although measures such as the quality-adjusted life years (QALYs) and healthy life years (HYL) can also be used [15]. CERs can be expressed as the cost per DALY averted through each intervention thereby allowing for comparisons in costs and effectiveness across different settings.
Information on CEA of malaria interventions is essential in informing malaria control programmes to guide the decision-making and planning processes. There is paucity of information on CEA of malaria interventions in most low- and medium-income countries, which are home to the majority of the impoverished communities of the world [15]. This may result in failure to effectively implement intervention programs at sufficient scale [5]. Hence, this review was conducted to assess and examine the utility of the DALY methodology in CEA of malaria interventions.
Methods
In this review, only studies employing the DALY methodology in CEA of malaria interventions were included. Selection for eligible studies was conducted through a search of peer-reviewed journals on Medline (PubMed) and EMBASE. Grey literature was also searched using the Google Scholar search engine. The searches included international peer-reviewed articles published in the period from 1996 (the year of the first GBD study [
10
,
14
]) to 1 June 2016. The search terms were 'cost' OR 'effectiveness' OR 'cost-effectiveness' AND 'disability adjusted life years' AND 'malaria'. Any literature which did not satisfy these criteria was excluded. The snowball technique was used to identify other articles by searching for relevant papers listed in reference lists of the initially selected articles. Although review papers were not included as part of this review, they used to check for other potential references that fulfil the eligibility criteria. A total of 82 studies were initially retrieved and after further screening using the inclusion criteria, a total of 40 studies were finally included for this review. The inclusion criteria are shown by the PRISMA flow diagram (Fig.
1
) which was adapted from Moher et al. [
16
] and modified. We limited our search to papers written in English. For each of the selected studies, we noted the year of study, malaria intervention assessed, intervention target population, country of study, data sources and CERs in terms of DALYs averted. We checked if the studies followed the GBD study methodology in estimating DALYs. We assessed the use of disability weights, application of age weighting and discounting as well as use of life expectancy tables.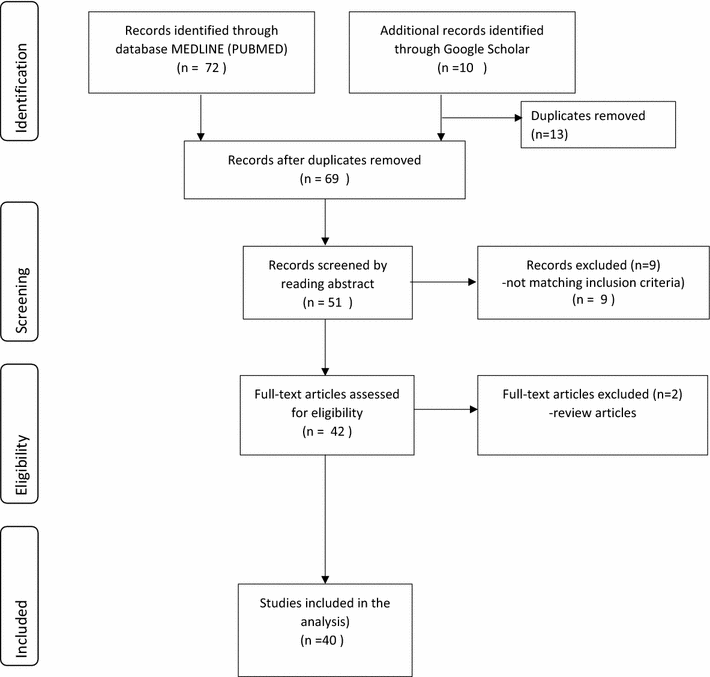 Cost-effectiveness analysis
Reviewed studies used two main approaches as thresholds to determine whether or not an intervention was cost-effective. The first approach was based on per capita gross domestic product (GDP). Interventions with a CER per DALY averted less than a country's per capita gross domestic product (GDP) could be regarded as 'very cost-effective' and those for which the cost-effectiveness is less than three times the country's per capita GDP as 'cost-effective'. This approach was recommended by the World Health Organisation's choosing interventions that are cost-effective (WHO-CHOICE) project [15, 17]. The second approach used was thresholds of US$ 30 and US$ 150 per DALY averted as a basis for considering an intervention either highly cost-effective or cost-effective respectively [18, 19].
In order to standardise the CERs, each ratio was expressed as number of DALYs averted per US$ 1 million spent on the intervention. For CERs expressed as a range, the midpoint value was calculated and used calculate the number of DALYs averted.
Discussion
We reviewed studies that utilised the DALY metric in cost-effectiveness analysis of malaria interventions. Although the reviewed studies used the DALY, there were some variations in methodology. Most of the interventions were within the WHO-CHOICE thresholds for cost-effectiveness. Some interventions were more cost-effective in one setting compared to a different setting. This shows that cost-effectiveness analysis may only be useful in the context of the choices available in a particular setting [59]. Although most interventions reviewed in this study were cost-effective based on set thresholds, the number of DALYs averted per one million US$ spent on each intervention were different. It is therefore essential for policymakers to compare results of cost-effectiveness analysis with as many relevant interventions as possible before making resource allocation decisions.
In general, a combination of interventions were more cost-effective than single interventions. Combined malaria interventions have been shown to deliver substantial efficiency gains compared to single interventions [48]. For instance, ITN distribution was shown to be a more cost-effective intervention when added to antenatal services [43]. It is essential to include long-term surveillance as part of ITN interventions, with particular attention to the age range over which rebound can occur [46]. It has been shown that emphasis on treatment as well as targeted vector control yielded significantly lower costs per life saved [27]. Although there is a wide range of cost-effective interventions available, provision of these intervention packages is often not affordable in low-income countries. There is therefore, need for external donors to assist with funding where possible [3]. Information from the studies in this review can be used to make decisions on which interventions can be effectively applied independently and which ones are mutually exclusive [4].
The majority of published studies on CEA of malaria interventions using DALYs focused on case treatment, use of insecticide treated nets and prophylaxis. This review showed that there is paucity of information on cost-effectiveness of other interventions such as early detection, environmental management, diagnostic services and educational programmes. Lack of cost-effectiveness information on some interventions makes it difficult to conduct a comprehensive comparison in order to guide policy-makers in decision-making. There is therefore need for more CEA studies on less explored malaria interventions to inform policy and to improve effectiveness of these interventions. The evidence provided by such studies will assist in guiding decisions at various levels [6]. From our literature search, there were no studies on cost-effectiveness of malaria interventions for a malaria outbreak scenario. It would be interesting to know whether interventions that are likely to be cost-effective in a normal malaria transmission situation will also be cost-effective in an outbreak.
This review showed that disease modelling methods can provide useful information by predicting cost-effectiveness for scenarios and multiple strategies, where, for practical reasons, trials cannot be carried out [3, 37]. However, CEA results obtained through modelling techniques must be interpreted with caution as assumptions made in the models may be different to the actual situation obtaining in real life situations. Thus, results from complex models should be presented to decision-makers in a form in which interpretation and translation is easy.
Comparison of CERs among the reviewed studies was difficult as the number of DALYs averted per each intervention were often expressed differently. Although most studies expressed CERs as cost per DALYs averted, some studies only gave a range without specifying the mean number of DALYs averted. Some of the studies looking at a combination of interventions did not give a breakdown of the cost per DALY averted for each individual intervention. In some cases, there was very little information on the methodological choices made. For example, some studies did not specify the disability weight which was used, the sources of data on malaria incidence and the source of life expectancy values. In some cases, this information had to be extracted from referenced articles as it was not clearly stated.
Conclusions
Cost-effectiveness analysis studies of malaria interventions done over the past 20 or so years have provided important information for policymakers to guide them on choosing the most cost-effective interventions for malaria programmes. This review has shown that most malaria interventions are cost-effective in terms of the cost per DALYs averted per each malaria intervention, based on acceptable thresholds. This information is useful in identifying interventions that effectively use available resources. Although most of the studies we reviewed generally followed the DALY methodology in the CEA, there were differences in the way the CERs were expressed thereby making it difficult to make a comprehensive comparison between studies.
Abbreviations
AL:

artemether–lumefantrine
CEA:

cost-effectiveness analysis
CER:

cost-effectiveness ratio
DP:

dihydroartemisinin–piperaquine
DALY:

disability adjusted life year
GBD:

global burden of disease
GDP:

gross domestic product
ITP:

intermittent preventive treatment
ITNs:

insecticidal treated nets
RDT:

rapid diagnostic test
US$:

United States Dollars
WHO:

World Health Organisation
Declarations
Authors' contributions
RG led on all aspects of the paper's development from conceptualisation to finalisation, while MJC was involved in the conceptualisation and reviewing of all drafts of the paper. Both authors read and approved the final manuscript.
Acknowledgements
Not applicable.
Competing interests
The authors declare that they have no competing interests.
Availability of data and materials
Data and materials can be requested from the authors.
Funding
No direct funding was received to support the reported research.
Publisher's Note
Springer Nature remains neutral with regard to jurisdictional claims in published maps and institutional affiliations.
Open AccessThis article is distributed under the terms of the Creative Commons Attribution 4.0 International License (http://creativecommons.org/licenses/by/4.0/), which permits unrestricted use, distribution, and reproduction in any medium, provided you give appropriate credit to the original author(s) and the source, provide a link to the Creative Commons license, and indicate if changes were made. The Creative Commons Public Domain Dedication waiver (http://creativecommons.org/publicdomain/zero/1.0/) applies to the data made available in this article, unless otherwise stated.
Authors' Affiliations
(1)
School of Nursing and Public Health, College of Health Sciences, University of KwaZulu-Natal, Howard Campus, Durban, South Africa