Can choices between alternative hip prostheses be evidence based? a review of the economic evaluation literature
Cost Effectiveness and Resource Allocation
2010
8:20
Received: 12 October 2009
Accepted: 29 October 2010
Published: 29 October 2010
Abstract
Background
Total hip replacement surgery places a considerable financial burden on health services and society. Given the large number of hip prostheses available to surgeons, reliable economic evidence is crucial to inform resource allocation decisions. This review summarises published economic evidence on alternative hip prostheses to examine the potential for the literature to inform resource allocation decisions in the UK.
Methods
We searched nine medical and economics electronic databases. 3,270 studies were initially identified, 17 studies were included in the review. Studies were critically appraised using three separate guidelines.
Results
Several methodological problems were identified including a lack of observed long term prosthesis survival data, limited up-to-date and UK based evidence and exclusion of patient and societal perspectives.
Conclusions
More clinical trials including long term follow-up and economic evaluation are needed. These should compare the cost-effectiveness of different prostheses with longer-term follow-up and including a wider perspective.
Keywords
Economic Evaluation
National Health Service
Economic Evaluation Study
Full Economic Evaluation
National Joint Registry
Background
About 8 million people in the UK have osteoarthritis (OA) [1]. Patients typically experience chronic pain and loss of physical function with an impact on society of lost productivity and increased burden on domiciliary/informal care. For those with end stage hip disease, total hip replacement (THR) surgery offers the only effective treatment. Over 70,000 THR operations were carried out in England and Wales in 2008/9 [2], with the number almost doubling in the last decade. As the population continues to age demand for this type of surgery will increase, with significant implications for the health system in terms of the impact on healthcare budgets and service utilisation. Inevitably, healthcare decision makers will need to make decisions that aim to ensure an efficient allocation of resources to THR surgeries, including the availability, timing and configuration of such interventions.
The total cost of joint replacement surgery to the National Health Service (NHS), UK in 2000 was approximately £140 million [
3
], (£172 million in 2008 prices) [
4
], with the direct hospital costs of each procedure ranging from £488 to £9,905, mean of £4,788 [
3
](2008 prices). Predicted cost savings of total joint replacement surgery (relative to no surgery) are the reduced costs of arthritis treatment, medication and community care. In this paper we focus on total hip replacement surgery. Figure
1
illustrates the treatment pathways available to those undergoing elective THR surgery in the UK NHS.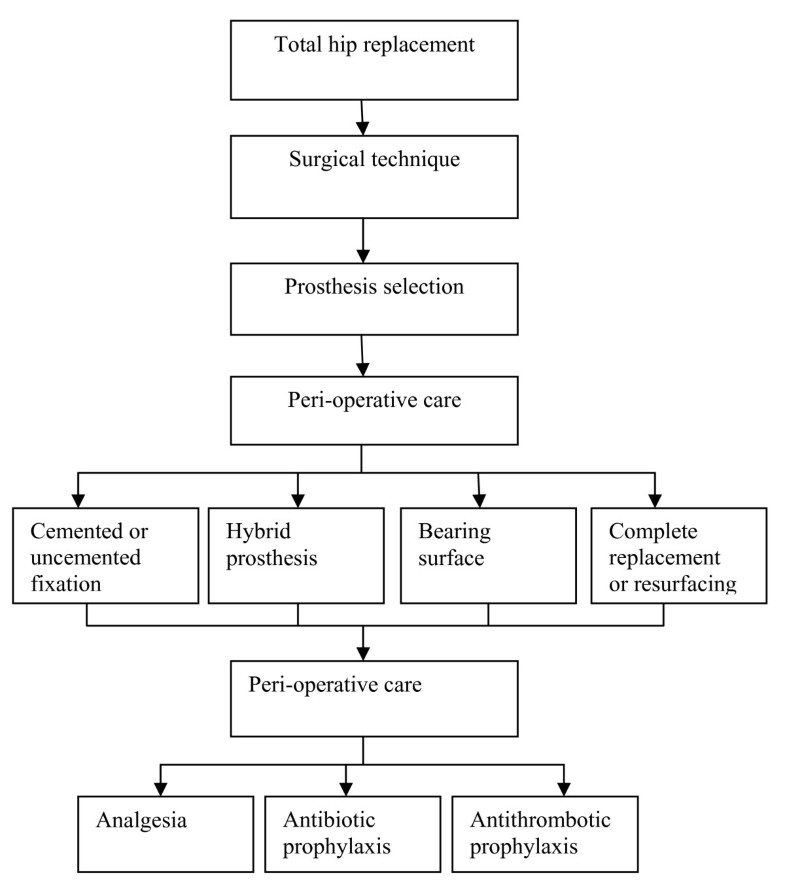 In 1998 more than 60 hip prostheses manufactured by 19 companies were listed on the market in the UK [5], with total NHS expenditure on hip prostheses of approximately £53 million [3] (£67 million in 2008 prices). In 2008 the National Joint Registry (NJR) [2], listed 124 brands of acetabular cups and 137 brands of femoral stems, which indicates a substantial increase in the number of prostheses available from 1998 to 2008. In England and Wales, the National Institute for Health and Clinical Excellence (NICE) recognises three broad categories of prosthesis: cemented, cementless and hybrid [5]; with the NJR reporting an increased use of cementless procedures from 21% of all THR procedures recorded on the NJR in 2004 to 33% by 2008 [2].
THR is one of the most frequently performed surgical procedures in the world [6], with the average age of a patient receiving surgery reported as 66 years [7]. Revision surgery has increased with 3,012 revision procedures carried out in 2003/4, rising to 6,581 by 2008/9 [2, 7] and accounting for approximately 9.4% of all THR procedures in England and Wales. Revision surgery is also a key element of cost with Briggs et al [8] reporting a mean cost for a standard hip or knee revision procedure in 2000/1 as £5,294 (£6,385; 2008 prices) compared to £3,889 (£4,690; 2008 prices) for a primary procedure. The prosthesis manufacturing industry has responded to the increase in demand for THR surgery by investing significant amounts of money in developing new, more durable, prostheses.
Economic evaluation is widely used to inform policy decisions regarding which new healthcare technologies should be adopted given the available resources [9]. NICE provides guidance to the NHS in England and Wales on clinical and cost-effectiveness of new and already developed technologies and within this, provides recommendations on the principles and methods of health technology appraisal [10].
From an economic perspective, some or all of the direct medical costs of implanting a new or alternative hip prosthesis may be offset by reductions in the subsequent direct medical costs associated with complications and/or secondary intervention and also by an earlier return to productive activity.
Health care purchasers (in the NHS, surgeons and clinical or finance managers) are motivated by a desire to buy the most effective prostheses for patients but are also constrained by health budgets, meaning they increasingly demand greater 'value for money' from the prostheses. Potential important differences in non-medical resource use and costs may also result from the use of different prostheses. These include productivity losses (absence from paid/unpaid work) associated with differing lengths of rehabilitation/functional status; other patient out-of-pocket expenses (e.g. travel costs); impact on social care services (both publicly and privately funded; community and domiciliary care).
In the UK, the Orthopaedic Data Evaluation Panel (ODEP) [11] provides a rating for prostheses based on data submitted by the manufacturers. For example, the Charnley cemented cup and stem both have a rating of 10A, designating strong clinical evidence of prosthesis survival at 10 years (NICE benchmark) [5]. However, to date, no studies has systematically summarised current economic evidence to compare the impact of different types of prostheses on costs and cost-effectiveness.
The objective of this systematic review is to critically appraise and summarise current published evidence on the costs and cost-effectiveness of using alternative prostheses in THR surgery.
More specifically, we aim to:
1.

Assess the completeness of the evidence base for resource use, costs and cost-effectiveness;

2.

Assess the applicability of the available evidence to inform resource allocation decisions in the UK NHS.
Methods
Our search strategy, criteria to identify relevant papers and approach to data extraction are described below.
Criteria for considering studies for this review
Types of studies
Full economic evaluation studies (cost-effectiveness analyses, cost-utility analyses or cost-benefit analysis), defined as the comparative analysis of alternative courses of action (e.g. healthcare treatments) in terms of both their costs and their consequences (e.g. clinical effects) [
12
]. Partial economic evaluation studies which compare alternatives in terms of their costs only (i.e. cost analyses) [
12
]. (See figure
2
.)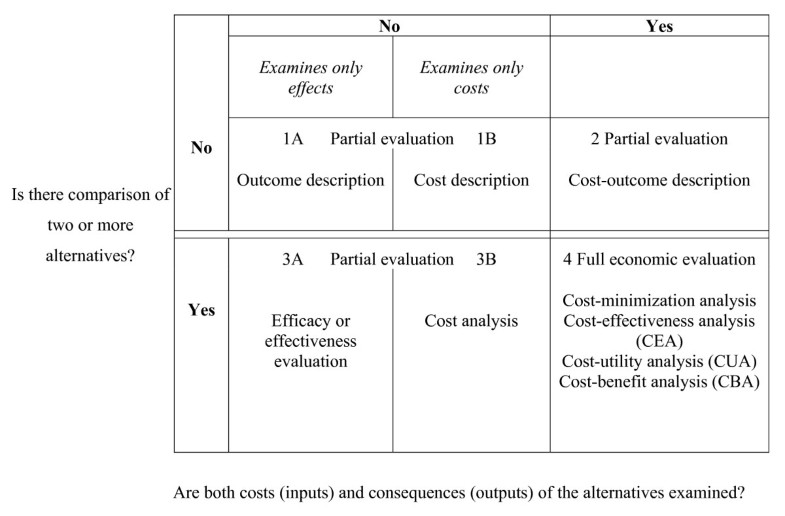 Types of participants
Adults 18 years or over.
Types of Interventions
Any THR surgery using any type of hip prosthesis (using any surgical technique) compared to THR surgery using any other type of prosthesis (any surgical technique).
Types of outcome measures
1.

Direct medical resource use; Prosthesis, operative time, post-operative care, length of post-operative hospital stay (los), management of surgical/implant/post-operative complications, medication, use of therapy services, use of adult social care services, revision surgery within follow-up period, long-term revision surgery (prosthesis failure)

2.

Non-medical resource use; Productivity losses (sick days, lost wages) - patient: productivity losses (sick days, lost wages) - informal carer(s): other patient/family out-of-pocket expenses (travel to hospital visit)

3.

Health effects; Post-operative pain, surgical/implant/post-op complications, physical functioning, health related quality of life (HR-QoL), mortality/survival, quality adjusted life years (QALYs),
Note direct assessments of revision and bilateral surgery are excluded in the review.
Search methods for identification of studies
Electronic searches
We searched MEDLINE (1950 to May 2010); EMBASE (1980 to 2010 week 20) Cinahl (1971 to May 2010); The Cochrane Library (Issue 5, 2010): The Cochrane Database of Systematic Reviews; Database of Abstracts of Reviews of Effects (DARE) and Health Technology Assessment (HTA) database; Health Economic Evaluations Database (HEED) (1992 to 6 June 2010); the NHS Economic Evaluation Database (NHS EED) (1992 to 6 June 2010) and the European Network of Health Economic Evaluation Databases (EURONHEED) (2000 to 6 June 2010).
A search strategy was developed and adapted for use in each electronic database. An example of the search strategy used in OVID Medline is given in 'Additional file 1, Appendix 1'.
Searching other resources
Grey literature searching was outside the scope of this review. However, we reviewed bibliographies of the included economic evaluations to identify additional eligible economic evaluations.
Data collection and analysis
Selection of studies
One researcher screened the titles and abstracts of the literature search results for eligible economic evaluations. Full text reports of all eligible studies were sought. Excluded studies were listed with the reasons for their exclusion. Articles published in languages other than English were excluded since translation was outside the scope of the current review.
Data extraction and management
One researcher carried out all data extraction using a two-stage process [13]. First, risk-of-bias in generating clinical effect estimates utilised in each economic evaluation (if applicable) was assessed using a tool endorsed by the Cochrane Bone, Muscle and Joint Trauma Group [14]; Study quality was assessed using a more general tool, the Critical Appraisal Skills Programme (CASP) checklist for: (i) cohort studies [15] and (ii) randomised controlled trials [16]. Next, an overall assessment of the methodological quality of each economic evaluation was made, informed by applying the guidelines for authors and peer reviewers of economic submissions to the BMJ and, in the case of model-based full economic evaluations, a checklist for best practice guidelines in decision-analytic modelling [17]. An example of a completed data extraction form is presented in 'Additional file 2, Appendix 2'.
Data Synthesis
The extracted data were synthesised by summarising the methodological quality of each study in tables, these tables were then supplemented with a narrative summary. All estimates of costs reported in the literature were converted to British currency values (GBP) using exchange rates based on Purchasing Power Parities and inflated to 2008 prices using a web-based conversion tool [4]. Results are reported according to: study type, perspective, comparator, study design, time horizon, data sources, health benefit measures, discount rate, uncertainty and sponsorship.
Discussion
This paper has systematically searched for, assessed and summarised literature on the costs and cost-effectiveness of using alternative prostheses in THR surgery. We have identified several methodological problems in the literature including a lack of observed long term prosthesis survival data, limited up-to-date UK based evidence and exclusion of patient and societal perspectives.
Several limitations of this systematic review should be highlighted when interpreting these principal findings. Foreign language studies were considered outside the scope of this review, thus sixteen studies were excluded. For all foreign language studies, English language abstracts were sought to further determine whether the study met the inclusion criteria, in some cases no abstract at all or no English language abstract was available. In the remaining cases it was not clear from the abstract whether or not the study would meet the inclusion criteria. From screening titles, all foreign language studies appear to be partial economic evaluations and thus the generalisability of the study to the UK context (for the purpose of this review) is anticipated to be limited due to international differences in health care settings.
Hand searches and grey literature searches were not undertaken. Literature searching, data extraction and critical appraisal were carried out by the first author only. Inclusion of a further assessor would have reduced the risk of bias in study selection and the risk of error in data collection.
Only seven studies were based primarily on UK data with some of the older studies being of limited use in terms of the relevance to current NHS practice. Where studies were non-UK based, revision rates for prostheses derived from populations outside of the UK require further detail of patient characteristics and surgical implantation techniques before results can be applied to the UK setting. Cost analysis studies have generally been based on different health care systems with differing study populations, thus limiting the applicability of these results to the UK, NHS context.
One of the methodological limitations of the studies identified in this review is the different types of economic models used, making comparability across results difficult: none of the studies compared alternative models to answer the same question. The main difference between the types of model identified in this review is the description of disease progression. Markov modelling [8, 24–26] involves dividing a patient's possible prognoses into a series of health states. The probabilities defining the transitions between each of these states are specified over a single cycle of the model [24]. The model is then run over a number of cycles to view how a typical patient would move between states over a specified time period, consisting of several cycles. The transition probabilities reported in the Markov models in this review are calculated based on data obtained from a range of different sources, including life tables, clinical trials and other published sources. Crucially, because the empirical studies typically observe data used to generate transition probabilities over a limited follow-up period, the authors also employ statistical methods to extrapolate beyond the time horizon of observed data, for example the risk of revision. The Markov models identified in this review, are also fully probabilistic in their approach to managing uncertainty in the model parameters, NICE now requires the use of PSA for all cost effectiveness submissions [10].
The deterministic cost-effectiveness models (Daellenbach et al) [21] use more simplified assumptions. A key difference relates to the treatment of prosthesis survival rates. While studies using a Markov approach allow for the possibility that a prosthesis may fail at any point in time (according to a probability distribution), deterministic models assume a range of values for the expected life of a cemented prosthesis and then determine, for each of these values, the increase in the expected life of a cementless prosthesis required in order for the two to have the same net present value cost (for various age groups). This assumes that a prosthesis will fail at a specific point in time. Other studies[19, 20, 22, 23] use a similar approach. Faulkner et al [23] estimate expected costs over twenty years using data from other studies and using statistical extrapolation to predict future revision rates.
A significant knowledge gap and challenge to research in this area relates to observed survival rates. NICE currently define their benchmark for revision rate as being 10% at 10 years [5]. Some studies in this review have employed methods of extrapolation of the data in order to estimate survival rates into the future. However, these are based on very short time periods of observed data. This highlights the need for more trials comparing different prostheses with long-term follow up. Only one full economic evaluation carried out a head-to-head comparison between two different manufacturer named prostheses [8]. Further economic evaluations of the prostheses according to their manufacturer rather than type (cemented/cementless) are needed given the large number of prostheses, the likely variability within specific types of prostheses and the technological changes that have occurred over time. It is recommended that clinical trials should include an economic evaluation during pre-trial modelling (employing a Bayesian iterative approach), which would inform the trial design and subsequent extrapolation of trial data [39].
In order to comprehensively assess whether an intervention provides value-for-money, information on non-medical resource use and productivity losses should be sought and taken into account, even though not required in assessment guidelines for some agencies (e.g. NICE). Failure to take into account these costs and benefits may hide the fact that they are being merely shifted onto another sector [40]. We have identified very limited consideration of the patients' and society's costs and resource use in the literature. Baxter and Bevan [22] recommend further research combining prosthesis survival and HR-QoL.
This review also highlights the lack of up-to-date published studies using UK data, fourteen out of the seventeen studies included in this review were conducted over five years ago. The recent development of the NJR may provide an opportunity to produce more up-to-date analysis using data from England and Wales.
Finally, the range of costs of prostheses from Additional file 3, Table S1 provides an interesting perspective regarding the NHS national tariff for primary THR (an individual tariff is derived for each hospital patient episode, represented by the average cost of providing a particular procedure) [41]. This tariff specifies how much hospitals are reimbursed for treatments, in 2008/9 this was £5,220 for cemented and £5,587 for cementless prostheses (2008/9) [42]. The tariffs include a component for length of stay (currently £4,262 and £4,193 respectively) [42], implying very low tariffs for the surgical procedure itself (about £1,000 and £1,400 respectively). This is deserving of further research, to understand the potential tradeoffs that could occur across the range of prostheses in terms of 'profit' versus effectiveness.
Conclusions
There is a need for more clinical trials including economic evaluations [43] and comparing different prostheses with long-term follow up. These trials should also consider the perspectives of the health service, patients' and society. The recent development of the NJR (England and Wales) provides a unique opportunity for international comparisons of those countries with existing joint registries and to address the gap in the literature on the cost effectiveness of hip prostheses in England and Wales.
Authors' Affiliations
(1)
School of Medicine, Health Policy and Practice, University of East Anglia, UK
(2)
Centre for Health Economics, Monash University, Australia
(3)
Norfolk and Norwich University Hospitals, Norwich, UK
References
Arthritis Information, Osteoarthritis [http://www.arthritisresearchuk.org/arthritis_information/arthritis_types__symptoms/osteoarthritis.aspx]
National Joint Registry for England and Wales: 6th Annual Report. 2008.Google Scholar
National Audit Office: Hip Replacements: Getting it right first time. Report by the Comptroller and Auditor General 2000Google Scholar
The Campbell and Cochrane Economics Methods Group & The Evidence for Policy and Practice Information and Coordinating Centre - Cost Converter [http://eppi.ioe.ac.uk/costconversion/default.aspx]
National Institute for Clinical Excellence: Guidance on the selection of prostheses for primary total hip replacement. NICE ed. London; 2000.Google Scholar
Sibanda N, Copley LP, Lewsey JD, Borroff M, Gregg P, MacGregor AJ, Pickford M, Porter M, Tucker K, van der Meulen JH: Steering Comm NJREW: Revision Rates after Primary Hip and Knee Replacement in England between 2003 and 2006. Plos Medicine 2008, 5: 1398–1408.View ArticleGoogle Scholar
National Joint Registry for England and Wales: 4th Annual Report. 2007.Google Scholar
Briggs A, Sculpher M, Dawson J, Fitzpatrick R, Murray D, Malchau H: The Use of Probabilistic Decision Models in Technology Assessment: The Case of Total Hip Replacement. Applied Health Economics and Health Policy 2004, 3: 79–89.PubMedView ArticleGoogle Scholar
Briggs A, Claxton K, Sculpher M: Decision Modelling for Health Economic Evaluation. Oxford: Oxford University Press; 2006.Google Scholar
National Institute for Clinical Excellence: Guide to the Methods of Technology Appraisal. 2008.Google Scholar
Orthopaedic Data Evaluation Panel [http://www.supplychain.nhs.uk/portal/page/portal/Communities/Orthopaedics/ODEP%20database]
Drummond MF, Sculpher MJ, Torrance GW, O'Brien BJ, Stoddart GL: Methods for the Economic Evaluation of Health Care Programmes. 3rd edition. Oxford; 2005.Google Scholar
Shemilt I, Mugford M, Byford S, Drummond M, Eisenstein, E, Knapp M, et al.: Incorporating Economics Evidence. In Cochrane Handbook for Systematic Reviews of Interventions. Chichester: John Wiley & Sons; 2008.Google Scholar
Quality Assessment Tool [http://bjmtg.cochrane.org/sites/bjmtg.cochrane.org/files/uploads/Quality%20assessment%20tool.pdf]
12 questions to help you make sense of a cohort study [http://www.sph.nhs.uk/sph-files/cohort%2012%20questions.pdf]
10 questions to help you make sense of randomised controlled trials [http://www.sph.nhs.uk/sph-files/rct%20appraisal%20tool.pdf]
Philips Z, Bojke L, Sculpher M, Claxton K, Golder S: Good practice guidelines for decision-analytic modelling in health technology assessment - A review and consolidation of quality assessment. Pharmacoeconomics 2006, 24: 355–371.PubMedView ArticleGoogle Scholar
Drummond MF, Jefferson TO: Guidelines for authors and peer reviewers of economic submissions to the BMJ. BMJ 1996, 313: 275–283.PubMed CentralPubMedView ArticleGoogle Scholar
Pynsent PB, Carter SR, Bulstrode CJK: The total cost of hip-joint replacement; a model for purchasers. J Public Health 1996, 18: 157–168.View ArticleGoogle Scholar
Gillespie WJ, Pekarsky B, O'Connell DL: Evaluation of new technologies for total hip replacement. Economic modelling and clinical trials. J Bone Joint Surg Br 1995, 77-B: 528–533.Google Scholar
Daellenbach HG, Gillespie WJ, Crosbie P, Daellenbach US: Economic appraisal of new technology in the absence of survival data - the case of total hip replacement. Social Science & Medicine 1990, 31: 1287–1293.View ArticleGoogle Scholar
Baxter K: An economic model to estimate the relative costs over 20 years of different hip prostheses. Journal of Epidemiology & Community Health 1999, 53: 542–547.View ArticleGoogle Scholar
Faulkner A, Kennedy LG, Baxter K, Donovan J, Wilkinson M, Bevan G: Effectiveness of hip prostheses in primary total hip replacement: a critical review of evidence and an economic model. Health Technology Assessment - NHS R&D HTA Programme 1998., 2: Google Scholar
Fitzpatrick R, Shortall E, Sculpher M, Murray D, Morris R, Lodge M, Dawson J, Carr A, Britton A, Briggs A: Primary total hip replacement surgery: a systematic reviews of outcomes and modelling of cost-effectiveness associated with different prostheses. Health Technology Assessment - NHS R&D HTA Programme 1998., 2: Google Scholar
Marinelli MSA, Panfoli N, de Palma L: Cost-effectiveness of cemented versus cementless total hip arthroplasty. A Markov decision analysis based on implant cost. J Orthopaed Traumatol 2008, 9: 23–28.View ArticleGoogle Scholar
Spiegelhalter DJ, Best NG: Bayesian approaches to multiple sources of evidence and uncertainty in complex cost-effectiveness modelling. Statistics in Medicine 2003, 22: 3687–3709.PubMedView ArticleGoogle Scholar
Givon U, Ginsberg GM, Horoszowski H, Shemer J: Cost-Utility Analysis of Total Hip Arthroplasties: Technology Assessment of Surgical Procedures by Mailed Questionnaires. International Journal of Technology Assessment in Health Care 1998, 14: 735–742.PubMedView ArticleGoogle Scholar
Unnanuntana A, Dimitroulias A, Bolognesi MP, Hwang KL, Goodman SB, Marcus RE: Cementless Femoral Prostheses Cost More to Implant than Cemented Femoral Prostheses. Clinical Orthopaedics and Related Research 2009, 467: 1546–1551.PubMed CentralPubMedView ArticleGoogle Scholar
Yates P, Serjeant S, Rushforth G, Middleton R: The relative cost of cemented and uncemented total hip arthroplasties. Journal of Arthroplasty 2006, 21: 102–105.PubMedView ArticleGoogle Scholar
Scheerlink T, Duquet W, Casteleyn P-P: Socioeconomic aspects of total hip arthroplasty. A one-year survey in a Belgian university hospital. Acta Orthop Belg 2004, 70: 525–533.Google Scholar
Pingsmann A, Muller RT, Goller A: Cost analysis for total hip arthroplasty by measurement of time and material expenditure. Archives of Orthopaedic and Trauma Surgery 1998, 117: 421–424.PubMedView ArticleGoogle Scholar
Metz CM, Freiberg AA: An international comparative study of total hip arthroplasty cost and practice patterns. Journal of Arthroplasty 1998, 13: 296–298.PubMedView ArticleGoogle Scholar
Murray DWCAJ, Bulstrode CJ: Which primary total hip replacement? J Bone Joint Surg 1995, 77: 520–527.Google Scholar
Boardman DL, Lieberman JR, Thomas BJ: Impact of declining reimbursement and rising hospital costs on the feasibility of total hip arthroplasty. Journal of Arthroplasty 1997, 12: 526–534.PubMedView ArticleGoogle Scholar
National Institute for Health and Clinical Excellence: The Guidelines Manual 2009. pp. Appendix H Methadology checklist: economic evaluations; 2009:Appendix H, Methadology checklist: economic evaluationsGoogle Scholar
Maniadakis N, Gray A: Health economics and orthopaedics. J Bone Joint Surg Br 2000, 82-B: 2–8.View ArticleGoogle Scholar
Black N: Why we need observational studies to evaluate the effectiveness of health care. BMJ 1996, 312: 1215–1218.PubMed CentralPubMedView ArticleGoogle Scholar
Donaldson C, Mugford M, Vale L: Evidence-based Health Economics. London: BMJ Books; 2002.Google Scholar
Sculpher M, Drummond M, Buxton M: The iterative use of economic evaluation as part of the process of health technology assessment. J Health Serv Res Policy 1997, 2: 26–30.PubMedGoogle Scholar
Palmer S, Raftery J: Economics notes: Opportunity cost. BMJ 1999, 318: 1551–1552.PubMed CentralPubMedView ArticleGoogle Scholar
Jameson S, Reed MR: Payment by results and coding practice in the National Health Service: The importance for orthopaedic surgeons. J Bone Joint Surg Br 2007, 89-B: 1427–1430.View ArticleGoogle Scholar
Department of Health: National Tariff. Department of Health; 2008.Google Scholar
Briggs A: Economic evaluation and clinical trials: size matters. BMJ 2000, 321: 1362–1363.PubMed CentralPubMedView ArticleGoogle Scholar
Map of medicine - health guides, Total hip replacement [http://healthguides.mapofmedicine.com/choices/pdf/elective_hip_surgery2.pdf]
Copyright
© Davies et al; licensee BioMed Central Ltd. 2010
This article is published under license to BioMed Central Ltd. This is an Open Access article distributed under the terms of the Creative Commons Attribution License (http://creativecommons.org/licenses/by/2.0), which permits unrestricted use, distribution, and reproduction in any medium, provided the original work is properly cited.