Consolidated Health Economic Evaluation Reporting Standards (CHEERS) statement
Cost Effectiveness and Resource Allocation
2013
11:6
Received: 5 March 2013
Accepted: 7 March 2013
Published: 25 March 2013
Abstract
Economic evaluations of health interventions pose a particular challenge for reporting. There is also a need to consolidate and update existing guidelines and promote their use in a user friendly manner. The Consolidated Health Economic Evaluation Reporting Standards (CHEERS) statement is an attempt to consolidate and update previous health economic evaluation guidelines efforts into one current, useful reporting guidance. The primary audiences for the CHEERS statement are researchers reporting economic evaluations and the editors and peer reviewers assessing them for publication.
The need for new reporting guidance was identified by a survey of medical editors. A list of possible items based on a systematic review was created. A two round, modified Delphi panel consisting of representatives from academia, clinical practice, industry, government, and the editorial community was conducted. Out of 44 candidate items, 24 items and accompanying recommendations were developed. The recommendations are contained in a user friendly, 24 item checklist. A copy of the statement, accompanying checklist, and this report can be found on the ISPOR Health Economic Evaluations Publication Guidelines Task Force website (http://www.ispor.org/TaskForces/EconomicPubGuidelines.asp).
We hope CHEERS will lead to better reporting, and ultimately, better health decisions. To facilitate dissemination and uptake, the CHEERS statement is being co-published across 10 health economics and medical journals. We encourage other journals and groups, to endorse CHEERS. The author team plans to review the checklist for an update in five years.
Keywords
Economic Evaluation
Health Technology Assessment
Health Economic Evaluation
Item Checklist
Delphi Panel
Background
Health economic evaluations are conducted to inform resource allocation decisions. Economic evaluation has been defined as "the comparative analysis of alternative courses of action in terms of both their costs and their consequences" [
1
]. All economic evaluations assess costs, but approaches to measuring and valuing the consequences of health interventions may differ (see Figure
1
).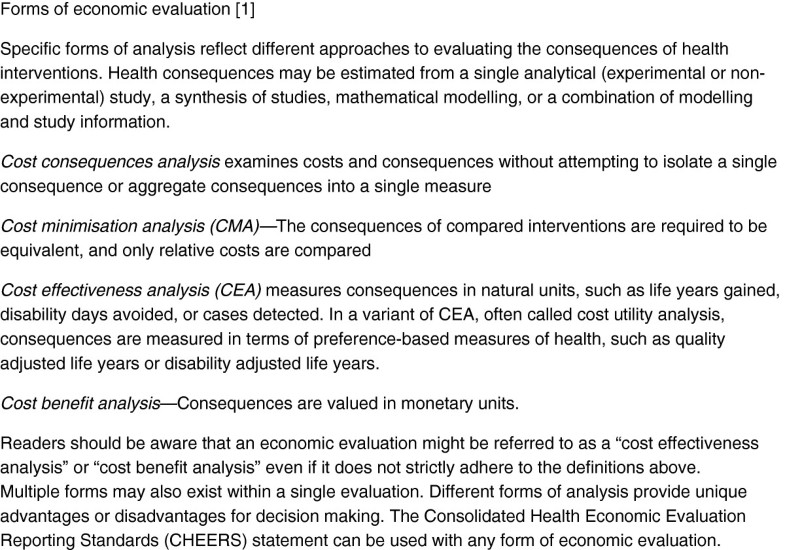 Economic evaluations have been widely applied in health policy, including the assessment of prevention programmes (such as vaccination, screening, and health promotion), diagnostics, treatment interventions (such as drugs and surgical procedures), organisation of care, and rehabilitation. Economic evaluations are increasingly being used for decision making and are an important component of programmes for health technology assessment internationally [2].
Declarations
Acknowledgements
The International Society for Pharmacoeconomics and Outcomes Research (ISPOR) Health Economic Evaluation Publication Guidelines—CHEERS Task Force acknowledge the support of Elizabeth Molsen; Donna Rindress, who provided the initial leadership for this effort; and the reviewers and Delphi panel participants, who are named in the larger explanation and elaboration document and on the CHEERS Task Force website.
All CHEERS Task Force members are volunteers. Support for this initiative was provided by the International Society for Pharmacoeconomics and Outcomes Research.
This article is a joint publication by Cost Effectiveness and Resource Allocation, BJOG: An International Journal of Obstetrics and Gynaecology, BMC Medicine, BMJ, Clinical Therapeutics, The European Journal of Health Economics, International Journal of Technology Assessment in Health Care, Journal of Medical Economics, Pharmacoeconomics and Value in Health. Each publisher holds its own copyright.
Authors' Affiliations
(1)
Institute of Health Economics, Edmonton, Canada
(2)
Department of Epidemiology and Community Medicine, University of Ottawa, Ottawa, Canada
(3)
University for Health Sciences, Medical Informatics and Technology, Hall in Tirol, Austria
(4)
Centre for Health Economics, University of York, York, UK
(5)
Warwick Medical School, University of Warwick, Coventry, UK
(6)
Adis International, Auckland, New Zealand
(7)
Clinical Epidemiology Program, Ottawa Hospital Research Institute, Ottawa, Canada
(8)
Department of Health Systems Management, Faculty of Health Sciences, Ben-Gurion University of the Negev, Beer-Sheva, Israel
(9)
Center for the Evaluation of Value and Risk in Health, Tufts Medical Center, Boston, USA
(10)
Health Economic Evaluation and Technology Assessment, Institute for Clinical Effectiveness and Health Policy (IECS), Buenos Aires, Argentina
(11)
Universidad de Buenos Aires, Buenos Aires, Argentina
(12)
Institute of Health and Wellbeing, University of Glasgow, Glasgow, Scotland, UK
(13)
RTI Health Solutions, Research Triangle Park, USA
(14)
Division of Headache and Pain, Brigham and Women's/Faulkner Neurology, Faulkner Hospital, Boston, USA
(16)
Clinical Epidemiology Editor, BMJ, London, UK
Copyright
© Husereau et al.; licensee BioMed Central Ltd. 2013
This article is published under license to BioMed Central Ltd. This is an Open Access article distributed under the terms of the Creative Commons Attribution License (http://creativecommons.org/licenses/by/2.0), which permits unrestricted use, distribution, and reproduction in any medium, provided the original work is properly cited.